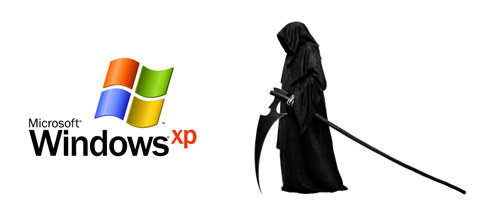 For those who do not know yet Microsoft has ended support for Windows XP.
What does this mean? No more updates for Internet Explorer, No more security updates for the operating system, it is now officially RETIRED. Moving on, there is still Windows Vista (on the chopping block for April of 2017) or the stable Windows 7 which business has migrated to. For Home users, Microsoft is pushing Windows 8 on you and the votes are in with mixed results. Fortunately, Windows will be keeping us running until 2020. Windows 8 is scheduled for retirement a couple years after that in 2023.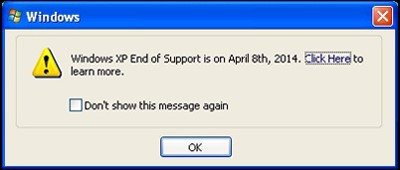 Migrating to Windows 7 & beyond. The good, the bad and the expense.
A few things you may want to know about migrating to Windows 7 and later.
Outlook Express is gone. You want a free mail client? there are many out there, but exporting mail to them flawlessly is not easy. If you want a painless journey you will want to pony up for a retail copy of Microsoft Office for around $200. Home & Business includes Outlook, Home & Student does NOT. (Note: Office 2007 on up is supported on Windows7, Office 2003 and back are retired, Office 2k3 installs but we have seen problems with it even with a successful install so beware!)
The location of My Docs, My Pictures, My Music & My Movies have been slightly relocated into a new location called My Library. Internet Explorer aka.IE8 was as current as you could get on Windows XP, Windows7 currently is on IE11. Warning upgrading from earlier versions needs caution as many browser driven applications are not compatible with it.
For business, if you use Quickbooks but not for payroll, you are mostly likely not accustomed to upgrading Qbooks every 3yrs like the rest of us. Well, it is time to shell out some more cash to upgrade it. Quickbooks 2009 is the oldest version you can use on Windows7.
Though Windows 7 runs nice on most XP hardware, BEFORE you decide you want to upgrade think about this: Your XP machine's age. The best case scenario is your machine is 2008, which means your machine is no younger than 7yrs old. Folks, PCs are not made to run forever. (I know you would like to think so but they don't) If you get 5yrs out of a desktop you did well and should buy a new desktop, not upgrade. 7yr or older hard drives and various other parts are not your friend. More, importantly once you load Win7 and activate it on your old PC, Microsoft has placed in the EULA that it is NOT transferable to another PC.
For more information please contact us. We can help you make the move to Windows 7.